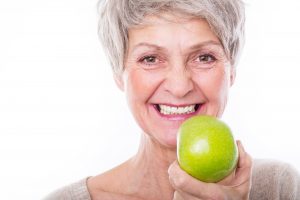 If you've lost all your natural teeth, you've likely tried a traditional full denture. Although you had high expectations, it probably has never quite felt natural. As an alternative, you could choose dental implants in Leesburg to support your denture, but will it really feel different? As with your traditional denture, it will take some time to get used to wearing your new smile; however, as your body heals, you'll enjoy a nearly perfect replica of your real teeth. Here's what you can expect your implant-retained denture to feel like compared to a conventional prosthetic.
Dental Implants Replicate the Entire Tooth
A traditional denture only recreates the portions of your teeth visible above the gumline. An implant-supported denture goes a step further. A dental implant is the only treatment to mimic the entire tooth from the root up. 4 to 6 titanium posts are surgically placed into your jawbone to act as new roots. Your jaw will fuse to the posts through a process called osseointegration, allowing them to stay securely in place while they support your denture. It's normal to have some tenderness while you heal, but you can manage it with an over-the-counter pain reliever.
Dental Implants are More Comfortable Than Dentures
New technologies and methods have improved the fit of traditional dentures, which rest on top of your gum tissue and are held in place using suction or an adhesive. Although this has enhanced their comfort, you'll always deal with some degree of slipping and irritation. Not to mention, they might feel bulky in your mouth. You'll never need to worry about any slipping or irritation again because your dental implants will be stabilized by your jawbone. You can smile, speak, and chew with confidence knowing your replacement teeth will stay in place. It's normal for your mouth to be a bit sore after your placement surgery, but any pain won't persist.
Dental Implants Don't Affect Your Biting Force
Your denture will be anchored to your jawbone instead of relying on your gum tissue for support. As a result, you'll actually benefit from a stronger biting force than what a traditional denture can provide. In fact, you can regain as much as 70% of your biting force to eat many of your favorite foods again, like meats. Your mouth might be a little tender for a few days, so it's best to stick to a soft diet. After you've healed, you shouldn't have any pain or discomfort while eating.
Benefit from the Best Today
If you've experienced significant tooth loss, don't settle for anything less than the best. Find out if you're a candidate for an implant-retained denture today.
About Dr. Jennifer Pham
Dr. Pham earned her Doctor of Dental Medicine from the Temple University School of Dentistry. She has completed advanced training at the Las Vegas Institute of Neuromuscular and Restorative Dentistry. Dr. Pham offers many specialty services, including All-On-4 in Leesburg. She can replace your missing teeth using a permanent solution. Contact our office today to schedule your consultation for dental implants.