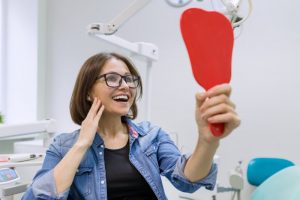 If you have been researching your tooth replacement options, you might have come across a statistic saying that dental implants have a success rate of over 95%. That is not an exaggeration; studies consistently find that this treatment yields predictably positive results. But what are the reasons behind the high rate of dental implant success in Leesburg? Let's talk about three factors that make this treatment a reliable form of tooth replacement.
Careful Implant Placement
Before a dentist inserts dental implants into a patient's mouth, they complete a rigorous planning process. They analyze the patient's oral anatomy and the structure of the bone so they know exactly where the implants should go for optimum implant-to-bone contact. The procedure itself is performed with the greatest care, so the chance of postoperative complications is as low as possible.
Of course, not every implant dentist uses the same technology and techniques for the placement surgery. If you are curious about the methods used by your local care provider, feel free to ask questions during your consultation.
Successful Osseointegration
Dental implants fuse with the bone around them. This process, called osseointegration, is what enables the implants to act as substitute tooth roots. There are a few factors that contribute to successful osseointegration:
A patient's oral and overall health. Issues like gum disease or uncontrolled diabetes can slow down osseointegration. That's why your dentist will want as much information about your medical history as possible.
Precise placement of the dental implants. It's important to achieve as much implant-to-bone contact as possible.
A patient's compliance with postoperative instructions. What you eat and how you care for your mouth after your surgery are both important.
A Patient's Long-Term Habits
How you care for your mouth in the days and weeks after your implant surgery plays a big role in how your treatment turns out. However, some long-term commitment is also necessary. Here are some longstanding habits that most successful implant patients have in common:
A good oral hygiene routine. Brushing, flossing, and regular dental visits are all important for dental implants' long-term viability. You might also need to use an antibacterial mouthwash.
Avoidance of tobacco. Smoking and chewing tobacco both increase the risk of infection around dental implants.
Protecting the dental implants. You should wear a mouthguard when you play sports. Similarly, if you grind your teeth at night, you should wear a nightguard to prevent damage to your dental implants in Leesburg.
Overall health maintenance. If you have diabetes or any condition that affects your immune system, you should work closely with your doctor to manage your illness.
Dental implants are amazing! When you and your dentist approach the procedure with care and commitment, you can expect your new teeth to thrive.
Meet the Practice
Dr. Jennifer Pham has over a decade of experience in dentistry. Throughout her career, she has completed advanced training that equips her to offer start to finish dental implant care. If you would like to learn more about your options for replacing your lost teeth, she would be pleased to help you. Contact our friendly team at 703-777-5600.