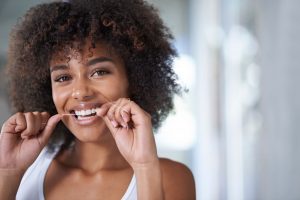 Have you had one or more of your missing teeth replaced with dental implants? If so, then chances are you already know the main reason why they're better than traditional options – they can last a lifetime. However, this is only true if you take good care of your dental implants in Leesburg, which involves daily brushing and flossing. Since flossing dental implants can be tricky, we've included some handy tips below for making it easier!
The Importance of Flossing Dental Implants
Flossing around dental implants may seem like a chore, but being diligent in this habit will definitely pay off. Yes, your implant and restoration are immune to decay, but plaque and bacteria can still accumulate in your gums and cause infections. In fact, a form of gum disease called peri-implantitis is the most common reason behind dental implant failure.
Fortunately, daily flossing can remove lingering food debris, minimize plaque buildup, and keep your smile healthy. Flossing with dental implants is a bit more involved than flossing natural teeth, but it's still manageable.
Using a Floss Threader
Most dentists consider a floss threader to be the most effective way to floss around implants. This small handheld device has a loop on one end and a flat edge on the other.
First, thread a piece of floss about 18 inches long through the loop. Then, carefully place the sharper edge between your implant and your gums, moving from the outer side toward your tongue. As the floss nears your tongue, hold one end of the floss with one hand and pull away the threader with the other, until the floss is under the tooth.
It may help to think of this process like a cowboy using a lasso. You're roping each implant in order to clean it.
How to Actually Clean Your Implants
Once you've roped the implant, you can actually start cleaning it. Wrap each end of the floss string around the middle finger of each hand. Next, gingerly work the floss up and down the sides of the implant or tooth. Lastly, let go with one hand so the floss can escape from underneath the restoration. Repeat the process with each of your implants.
Other Methods of Cleaning Your Dental Implants
If you're looking for a slightly easier way to floss dental implants, consider a water flosser. This device emits a steady stream of water to dislodge trapped food bits, plaque, and other harmful particles. You could also try an interproximal brush, which can remove debris without requiring as much dexterity. Just make sure to NOT choose the type made with a metal wire, as it might scratch your implants.
In addition to preventing gum disease, flossing dental implants on a regular basis will greatly prolong their lifespan. You can look forward to years if not decades of healthy smiles!
About the Author
Dr. Jennifer Pham earned her Doctor of Dental Medicine degree from the Temple University School of Dentistry. Since then, she has undergone extensive post-graduate training at the Las Vegas Institute of Neuromuscular and Restorative Dentistry. As a result, she can provide start-to-finish dental implant care at Downtown Family Dental of Leesburg. To learn more about flossing dental implants in Leesburg, visit her website or call (703) 777-5600.