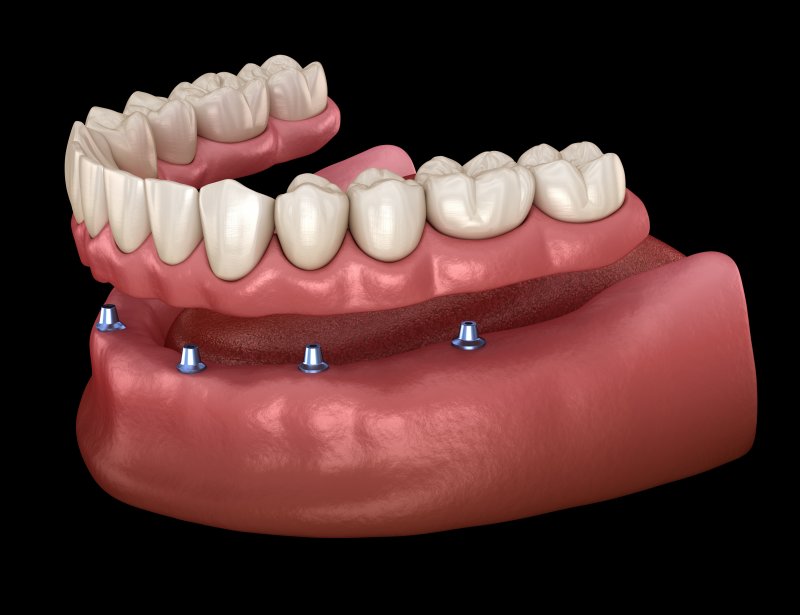 Life with traditional dentures, while an improvement over life with missing teeth, can be inconvenient sometimes. While early discomfort is something you can adjust to, you may still have to periodically deal with the embarrassment of teeth that slip out of place when you're trying to eat or speak. Getting dental implants for your dentures can make a significant difference; thanks to these artificial "roots", your new teeth will start to feel a lot more like your original ones. Below are 4 major ways that implant dentures in Leesburg can improve your life.
1. Implant Dentures are More Stable
Implants can permanently anchor dentures in place so that you don't have to worry about them slipping at awkward moments. No longer will you have to worry about slurring your words or having to hide your teeth due to your teeth moving out of place at the wrong time. The improved stability also makes it easier to enjoy a wider variety of foods. Implants have chewing strength that's almost comparable to real teeth, so you can eat virtually whatever you want.
2. Implant Dentures Stop Bone Resorption
Without the stimulation of natural teeth, the jawbone will start to resorb. In other words, it breaks down because the body thinks that part of the bone is no longer needed. This causes your facial features to sag after losing their support, and your overall oral functionality will suffer as well. Traditional dentures rest on the gums and don't interact with the bone at all, so they can't be used to stop bone resorption. However, dental implants are able to provide the same stimulation as natural tooth roots in order to keep the underlying bone healthy. If you want to keep your jaw in good shape, implant dentures are your best option.
3. Implant Dentures are a Long-Term Solution
Traditional dentures will last around 10 years on average, meaning you'll need to have them replaced every so often. They also need to occasionally be relined so that they still fit comfortably after the shape of your jaw has changed due to bone resorption. Implants are permanently anchored to the jaw and can last for decades without needing to be replaced. And since they prevent bone resorption, you don't have to worry about your dentures losing their fit.
4. Implant Dentures Improve Your Confidence
Thanks to the natural look and feel of implant dentures, there's no need to feel self-conscious about your smile. You can head out to all kinds of important social events and business meetings with a confident grin.
Are implant dentures right for you? Set up a consultation with your dentist today to learn more about the process and the potential benefits of the procedure. If you're eligible for implant surgery, then you can prepare for your dentures to receive quite a significant upgrade.
About the Author
Dr. Jennifer Pham has spent over a decade in the dental field helping patients protect and restore their smiles with a variety of advanced treatments. She has undergone postgraduate training in Implant Dentistry and is able to offer implants as a way to replace any number of teeth. If you've been thinking about upgrading to implant dentures, you can schedule a consultation with Dr. Pham at Downtown Family Dental of Leesburg by visiting her website or calling (703) 666-3867.