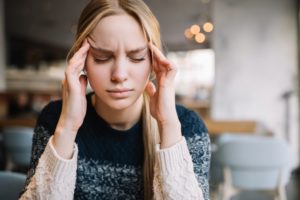 Temporomandibular joint dysfunction (TMD) is a condition that adversely affects the TMJ, the joint that connects the lower jaw to the rest of the skull. Headaches and migraines might at first seem to be completely unrelated to the jaw and its function. However, scientific research indicates otherwise. Let's take a look at the connection between migraines and TMJ and Leesburg and how TMD treatment might be able to help you find relief from both conditions.
TMD, Headaches, and Migraines
The link between regular headaches and TMD is often fairly straightforward. As muscle strain from TMD affects other areas of the face and neck, tension headaches may occur. However, migraines are quite different from regular headaches, and only recently have scientists sought to learn more about how they may be connected to disorders of the jaw joint.
Research from the from the University of São Paulo in Brazil has unveiled that chronic migraine sufferers (those who experience migraine attacks on more than 15 days per month) are three times more likely than the general population to report severe TMD symptoms. People who experience episodic migraines (fewer than 15 days each month) were also more likely than the general population to experience TMD symptoms.
However, this correlation between TMD and migraines does not necessarily mean that TMD is responsible for the migraines. The researchers postulate that TMD may act as a trigger for migraines, increasing their frequency and severity. Because TMD and migraines are both complex conditions, further study is necessary before scientists can claim to fully understand the connection between them.
Can TMD Treatment Help?
If you suffer from migraines, you should certainly speak to your doctor about your symptoms. However, you should also pay attention to your TMJ health. You may have TMD if you frequently experience any of the following:
Jaw pain
Difficulty chewing
A popping or locking sensation in the jaw
Neckaches
Backaches
If you believe you may have TMD, a visit to a qualified dentist is in order. They will evaluate your teeth and jaw and make a treatment recommendation. Many people find relief from TMD via the use of a small oral appliance called an occlusal splint. An occlusal splint is worn at night, and its goal is to help relax the jaw and the surrounding muscles.
As you progress in your treatment, it is possible that your migraines will become less frequent and/or less severe. If you also suffer from headaches in addition to migraines, you may notice that they also become less troublesome.
Migraines and headaches can cause significant pain and interfere with your daily life. Fortunately, though, TMJ treatment in Leesburg may be the key to finding relief from both conditions!
About the Author
Dr. Jennifer Pham is an experienced TMJ dentist in Leesburg. She is a graduate of the Temple University School of Dentistry, which is one of the most well-respected dental schools in the country. She offers a number different TMD therapies. If you would like to learn more about her and how she might be able to help you find relief from jaw pain, headaches, and migraines, contact our office at 703-777-5600.