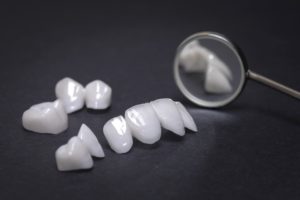 If your oral health and quality of life have been compromised by decay, infection, trauma, or missing teeth, your dentist can rebuild your smile with full mouth reconstruction in Leesburg. This involves using a series of customized procedures to restore or replace several teeth in the mouth. Your dentist can combine restorative and cosmetic treatments to create results that look and feel natural. Although everyone's treatment plan differs, here are 5 common procedures used for full mouth rehabilitation.
1. Dental Crowns
A crown is a custom-made cap bonded over the entire surface of a tooth. Crowns are widely used in restorative dentistry because they are versatile to treat several issues, like large areas of decay or deep fractures. Overall, they improve the health, function, and appearance of an imperfect tooth. It's not uncommon for crowns to be combined with other treatments as well, like root canal therapy or a dental bridge. They are made of all-ceramic material to mimic your natural teeth.
2. Fixed Bridge
If you've lost one or more teeth in a row, your dentist can fill the gap in your smile with a fixed bridge. Your dentist takes an impression of your mouth to recreate the portions of your missing teeth visible above the gum line. The bridge is held in place by bonding dental crowns over the adjacent teeth.
3. Dental Implants
A dental implant replicates a missing tooth from the root up. It can be used to treat all severities of tooth loss using the next best thing to your natural teeth. Your dentist can substitute a single tooth with an implant post, an abutment, and a crown. They can also use dental implants to secure bridges or dentures to treat substantial tooth loss.
4. Porcelain Veneers
A veneer covers the entire front surface of a tooth to enhance its color, size, shape, and proportion. Porcelain veneers are popular because they can resolve several defects using one treatment, like discoloration, chips, cracks, or small gaps between the front teeth. Modern veneers are thinner than ever, creating a minimally invasive treatment because less of your tooth's structure is removed during the bonding process.
5. Dental Bonding
Dental bonding offers both cosmetic and restorative benefits. A tooth-colored resin is used to correct minor flaws, like decay, chips, or exposed tooth roots. It is customized to match your enamel to blend in with your tooth, so no one will know it is there. After just one appointment, you can enjoy a drastic improvement in your smile.
Save Your Smile Today
You don't need to live with the difficulties of damaged or missing teeth. Your dentist can bring new life to your smile with full mouth reconstruction.
About Dr. Jennifer Pham
Dr. Jennifer Pham has over a decade of experience helping patients achieve their best smiles. She earned her Doctor of Dental Medicine at Temple University School of Dentistry and completed many rotations at various medical hospitals to treat complex oral health issues. Contact our office today to schedule your consultation for full mouth reconstruction.