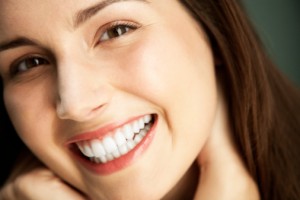 Take a look in the mirror. Go ahead—I'll wait. If your smile is not perfectly white then you can count yourself among the majority. Maintaining a white smile year after year is no easy task. Let's take a look at some of the reasons for teeth staining and what you can do to keep your smile white and bright.
Reasons for Teeth Staining
There are many factors that can contribute to teeth stains. Perhaps the most unrecognized is poor oral hygiene. Not brushing and flossing your teeth won't only put you at risk for tooth decay and gum disease. Ignoring your oral hygiene can also leave your teeth looking dull. This is because plaque on your teeth hardens to become tartar, which can make your teeth look yellow. And because tooth enamel is porous, plaque—a sticky biofilm made up of bacteria and food debris—can seep in and cause discoloration.
Your drinking and eating habits also play a role in the color of your smile. Do you enjoy a hot cup of coffee or tea in the morning? How about a glass of red wine in the evening? I'm not telling you to give these up, however, you should know that chemicals in these beverages could also penetrate tooth enamel causing stains.
Similarly, soda and energy drinks may cause trouble for your smile. These contain acids that may erode enamel, which makes it thin. Then, the yellow hued dentin—the layer of tooth beneath enamel—becomes more visible. Other foods and beverages that could stain your teeth are cranberry juice, tomato sauce, blueberries, blackberries and soy sauce and foods with curry.
If you smoke or chew tobacco—and I really hope you don't—then you need to know that the nicotine in both cigarettes and chewing tobacco will likely produce dark brown and yellow stains on your teeth. Even with stringent oral hygiene care, the stains from the chemicals in tobacco products can be very difficult to remove. So what's the moral of the story? Stop smoking or chewing!
Finally, there are fluorosis and enamel hypoplasia. These are conditions that occur as teeth develop. Fluorosis can happen when an excessive amount of fluoride is ingested during childhood. This is why you should only brush young children's teeth with water until they are old enough to expectorate a mouthful of foamy toothpaste.
Enamel hypoplasia can result when systemic health concerns alter the development of enamel. These include issues such as maternal smoking, vitamin D deficiency, and preterm birth.
Options for Whitening Your Smile
There are a few ways to whiten stained teeth. The first is teeth whitening. However, there are situations when bleaching will not work. In these instances, you and I can talk about porcelain veneers or dental crowns to conceal a stained tooth.
If you see a dull smile looking back at you in the mirror, please call my office to schedule a consultation.
Meet the Doctor
Dr. David Groy is a Leesburg dentist. He and his team of dental hygienists take care of smiles of all ages with preventive dentistry, cosmetic treatments, and restorative care. Call today for an appointment.