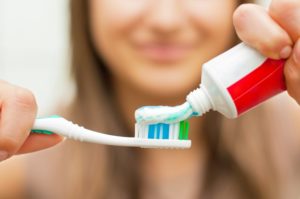 With work, family, meals, bills to pay, errands to run and more, every day is a long day. You're beat and would like nothing better than to climb into bed and sleep. What could possibly happen if you skip brushing your teeth every now and then? I'll tell you, and none of it is good.
What's the Worst That Could Happen?
Gum disease. If you don't brush your teeth at night, then you are not cleaning away plaque build up. Plaque is a sticky biofilm that accumulates in our mouths all day. If you haven't brushed lately, then you may be able to feel it by running your tongue along your teeth. A rough feeling means there is a layer of plaque.
Trapped inside plaque are bacteria that can lead to gum disease. Fortunately, brushing twice a day removes bacterial plaque, so it doesn't stay in place long enough to cause damage.
However, skip brushing and bacteria can begin to attack your gums. Moreover, the longer plaque sits in one place, the more likely it is to calcify and become tartar, which is a hard, yellowish substance. Ordinary brushing cannot remove tartar, but instead requires professional attention in our office.
Eventually, tartar can cause gum tissue to bleed, and become inflamed and swollen. If these symptoms of gum disease are ignored, then more serious ramifications begin to occur including gum recession, loosening teeth and eventual tooth loss.
Skip Brushing and Cavities Could Develop
In addition to an increased risk of gum disease, failing to brush your teeth before bed makes tooth decay much more likely. When you don't brush at night, all of the particles of food left behind from breakfast, lunch, dinner and snacks remain on and in between your teeth. As you sleep, bacteria in your mouth have a feast and excrete acids, which can begin to wear away enamel and cause a cavity.
Depending on how large the cavity becomes, you'll either need a filling or possibly a dental crown. Both could be avoided simply by sticking to a stringent practice of oral hygiene in the morning and before bed.
What's the Best Way to Brush?
I like patients to brush for at least two minutes, twice a day. Put a pea-sized amount of fluoride toothpaste on a brush with soft bristles. Place the brush at a 45-degree angle against your teeth. This way you're able to clean along the gum line, too.
When you're finished brushing, spend one more minute flossing between teeth to dislodge trapped debris and plaque. Rinse and now, you're ready for bed.
If you're experiencing bleeding, tender or swollen gums, then don't stop brushing and flossing. Recommit to better oral hygiene and schedule a checkup as soon as possible.
Meet the Doctor
Dr. David Groy wants you to have a healthy mouth day and night. That's why he and his team of dental hygienists take care of smiles of all ages with preventive dentistry, cosmetic treatments, restorative care and emergency dentistry. Call today for an appointment.